Hydramachine is proud to distrubute Custom Hoists'® single-acting and double acting telescopic cylinders.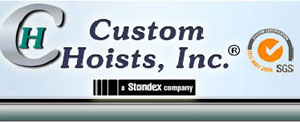 Custom Hoists single-acting cylinders feature a number of benefits to perform in today's rigid applications. We use high-strength DOM tubing throughout the cylinder to work in applications with system pressures up to 3,000 PSI. Available to meet your specific demands are 2" through 14.25" plunger diameters with strokes up to 440" and two through six moving stages.
Custom Hoists double-acting telescopic cylinders are manufactured to individual specifications to meet the rigid requirements of today's applications, including Refuse Trucks and Solid Waste Packers, Stationary and Mobile Trash Compactors, Transfer and Push-Out Trailers, Roll-Off Units, Construction Equipment and more.
Our cylinders are specifically designed to assure you the right results the first time. Call us direct and outline the requirements or discuss them with a Custom Hoists representative. We'll take it from there. Count on us to be your exclusive cylinder source.